At last... accurate biogas measurement!
Prosonic Flow B 200 ultrasonic flowmeter
Historically, accurate biogas flow measurement has been problematic and unpredictable due to the difficult and varying nature of the media being measured. Despite suffering from measurement inaccuracies due to installation conditions, thermal and DP flow have been widely used as the best solutions available. Not any more – our new Prosonic Flow B 200 flowmeter leads the field in accurate biogas measurement.
Innovative yet familiar
Using tried and trusted ultrasonic flow technology, the Prosonic Flow B 200 has been specially designed for accurate volumetric biogas measurement. All the usual issues such as moisture, dirt, low pressures, low velocities and changing gas composition no longer pose a problem as ultrasonic technology remains unaffected by these external conditions.
How does the Prosonic Flow B 200 stack up?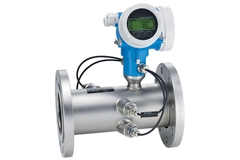 Offering a high accuracy of ±1.5%, negligible pressure loss and a wide operable flow range of 30:1, Prosonic Flow B 200 is an ultrasonic flowmeter to contend with. Available in diameters from DN50 to DN200, it is suitable for applications where gas temperatures could reach +80°C and gas pressures fall as low as 0.8 bar absolute. Better still, as either an Ex d or an intrinsically safe two-wire flowmeter (Ex ia), the Prosonic Flow B 200 is ideal for hazardous area use.
Methane monitoring
Varying methane content in the biogas is often an issue and ideally this should be constantly monitored. Thanks to ultra-precise sound velocity measurement and integrated temperature sensor, Prosonic Flow B 200 measures the methane content of a gas as the flow measurement is made, offering an early indication of problems with the biogas production process and information for the protection and efficient running of the CHP engine.
Installation and maintenance
The flanged Prosonic Flow B 200 is easily installed into your biogas pipe. It offers reduced requirements for straight pipe lengths both upstream and downstream of the meter, helping to reduce constraints on the pipework layout and increasing potential measurement points. The real bonus, however, comes in terms of maintenance requirements - Prosonic Flow B 200 is virtually maintenance-free!