RMC621
Flow and energy manager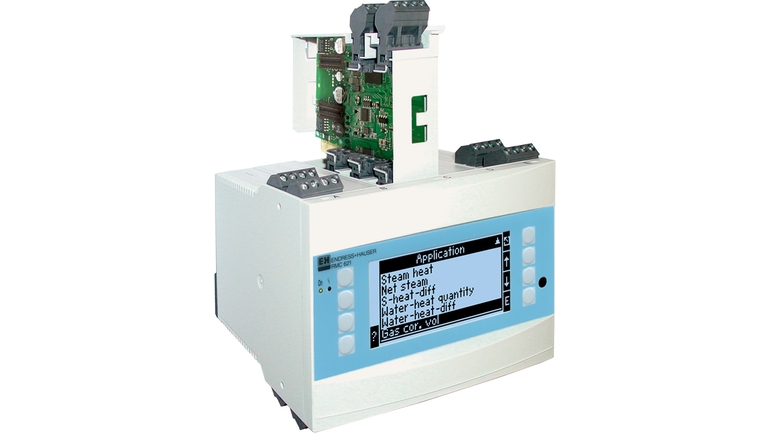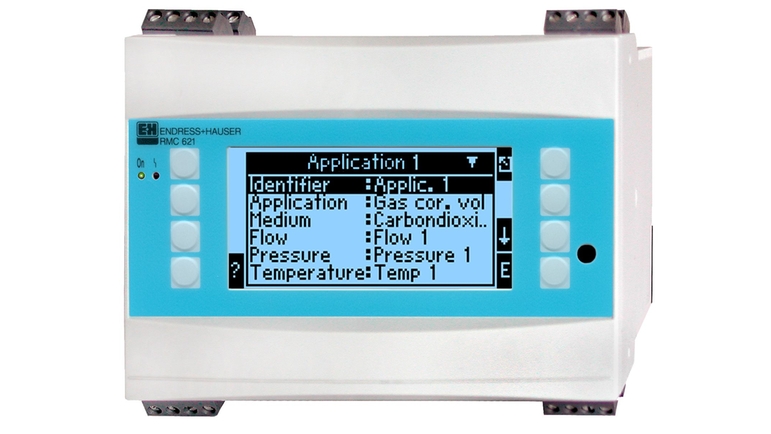 Universal flow and energy computer for gases, liquids and steam
The flow and energy manager RMC621 calculates standard volume as well as mass and energy flows of natural and technical gases, fluids and steam from flow, pressure, temperature and density. Depending on the medium calculation of the energy values occurs according to international standards (IAPWSIF97, SGERG88), real gas equations (SRK) or specific tables. For differential pressure measurements coefficients for flow compensation are calculated over the complete operating range of the flow sensor.
Quick selection
Choose from our suggested options
Individual configuration
Continue your selection from all possible options
Benefits

Suitable for applications with gas, liquid, steam and water

Simultaneous calculation of up to 3 measuring applications, even if different fluids are used

Very precise process calculations (density, enthalpy, compressibility) on the basis of equations and/...
Field of application

Energy management

Chemical industry

Heating and air conditioning

Pharmaceutical industry

Food and beverage

Plant and panel manufacture

Oil + petrochemicals
Documents / Manuals / Software
Accessories / Spare parts
Nr

1

Order code

RMC621X-HA

Front cover for version without display

Nr

1

Order code

RMC621X-HB

Front cover for version with display

Nr

2

Order code

RMC621X-HC

Housing cpl. without front, incl. 3x dummy inserts

Nr

4

Order code

RMC621X-NA

Nr

4

Order code

RMC621X-NB

Power supply 18-36VDC/20-28VAC

Nr

4

Order code

RMC621X-NC

Power supply 90-253VAC, Ex- version, Ex ia, IS FM, IS CSA

Nr

4

Order code

RMC621X-ND

Power supply 18-36VDC/20-28VAC, Ex-vers. Ex ia, IS FM, IS CSA

Nr

5

Order code

RMC621X-DA

Nr

5

Order code

RMC621X-DB

Front board,version without display,non Ex

Nr

5

Order code

RMC621X-DC

Display + front cover, non Ex

Nr

5

Order code

RMC621X-DE

Display cpl. Ex, Ex ia, IS FM, IS CSA

Nr

5

Order code

RMC621X-DF

Front board, version without display, Ex Ex ia, IS FM, IS CSA

Nr

5

Order code

RMC621X-DG

Display + front cover, Ex, Ex ia, IS FM, IS CSA

Nr

6

Order code

RMC621A-TA

Extension board temperature (Pt100/Pt500/Pt1000) cpl. incl. connector + fixing frame

Nr

6

Order code

RMC621A-TB

Extension card temp. ATEX approval (Pt100/500/1000) cpl. incl. terminals

Nr

7

Order code

RMC621A-UA

Extension board universal (PFM/pulse/analogue/loop power) cpl. incl. connector + fixing frame

Nr

7

Order code

RMC621A-UB

Extension card univ. ATEX approval (PFM/pulse/analog/LPS) cpl. incl. terminal

Terminal plug-in 4pol.SMSTB2,5 91/92/53/

Relay terminal/loop power

Nr

10

Order code

51004063

Terminal plug-in 4pol.SMSTB2,5 82/81/10/

Analog terminal 1 (PFM/pulse/analog/loop power)

Nr

11

Order code

51004064

Terminal plug-in 4pol.SMSTB2,5 83/81/110

Analog terminal 2 (PFM/pulse/analog/loop power)

Nr

14

Order code

51004065

Terminal plug-in 4pol.SMSTB2,5 104..101

Terminal RS485

Nr

15+18

Order code

51004066

Terminal plug-in 4pol.SMSTB2,5 134..131

Output terminal (analog/pulse)

Nr

12

Order code

51004067

Terminal plug-in 4pol.SMSTB2,5 1/5/6/2

Terminal temperat.1(Pt100/Pt500/Pt1000)

Nr

13

Order code

51004068

Terminal plug-in 4pol.SMSTB2,5 3/7/8/4

Terminal temperat.2(Pt100/Pt500/Pt1000)

Nr

19

Order code

51004907

Terminal RMx621/FML621, Input 1, RTD

Pt100/Pt500/Pt1000, gray

Nr

20

Order code

51004908

Terminal RMx/FML621, Input 2, RTD

Pt100/Pt500/Pt1000, gray

Nr

22

Order code

51004909

Terminal RMx/FML621, Input 2, 4-20mA

PFM, pulse, loop power, gray

Nr

21

Order code

51004910

Terminal RMx/FML621, Input 1, 4-20mA

PFM, pulse, loop power, gray

Nr

22

Order code

51005953

Terminal Ex RMx/FML621, Input2, 4-20mA

PFM, pulse, loop power, blue

Nr

11

Order code

51005954

Terminal Ex 4pol.SMSTB2,5 83/81/110/11

Analog terminal 2 (PFM/pulse/analog/loop power)

Nr

12

Order code

51005955

Terminal plug-in Ex4pol.SMSTB2,5 1/5/6/2

Terminal temperat.1(Pt100/Pt500/Pt1000)

Nr

13

Order code

51005956

Terminal plug-in Ex4pol.SMSTB2,5 3/7/8/4

Terminal temperat.2(Pt100/Pt500/Pt1000)

Nr

10

Order code

51005957

Terminal Ex 4pol.SMSTB2,5 82/81/10/11

Analog terminal 1 (PFM/pulse/analog/loop power)

Nr

19

Order code

51005958

Terminal Ex RMx/FML621, Input 1, RTD

Pt100/Pt500/Pt1000, blue

Nr

21

Order code

51005959

Terminal Ex RMx/FML621, Input 1, 4-20mA

PFM, pulse, loop power, blue

Nr

20

Order code

51005960

Terminal Ex RMx/FML621, Input 2, RTD

Pt100/Pt500/Pt1000, blue

Set, 10x fixing lever housing

for RMA42x/RMx621/RTA421/RN221N/TMT12x

Display- and operating keys: in offset housing for panel mounting 144x72mm

PROFIBUS DP slave module for DIN rail

PROFINET device for DIN rail

Housing Field, R4 182x180x165, 5xM20, PC

Protection housing Minitec. Synthetic housing with transparent cover. Protection IP66. 4x22.5mm / 2x45mm. Usage: FTL825.

Accessories Datamanager RXU10